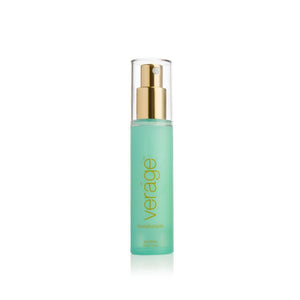 DESCRIPTION
Veráge is an exclusive system of natural skin care products that nourish and hydrate skin and reduce the visible signs of aging. The advanced plant technology used in Veráge promotes the appearance of an optimal lipid balance—the same balance found in healthy, youthful-looking skin. Each product is composed of true gifts from the Earth: nourishing plant extracts, pure and potent CPTG® essential oils, and select natural ingredients. The doTERRA Veráge Skin Care Collection delivers results you can see and feel, naturally.
Harnessing powerful plant extracts, emollients, and CPTG essential oils, Veráge provides your skin with everything it needs. Using the same stringent standards found in our CPTG essential oils, the ingredients used in Veráge are of the highest quality and purity. Each product in the Veráge system contains plant extracts that have been extensively researched and shown to promote youthful-looking skin. Veráge has been scientifically formulated to provide a natural and efficacious system that brings skin back to life. Using Veráge daily will promote a smooth, resilient, glowing complexion.
What's Inside?
Infused with CPTG essential oils of Wild Orange, Melaleuca, and Basil, Veráge Cleanser gently lifts dirt and makeup away while reaching deep into pores to purify skin. This gel formula cleanses and invigorates skin while emollients hydrate. Vital macromolecules of amino acids and lipids provide nutrients that help keep the skin looking hydrated and healthy. Veráge Cleanser leaves skin feeling clean and soft while its fresh, herbaceous aroma energises the senses.
Primary Benefits
 

Wild Orange and Basil are widely know for their ability to cleanse.

 

Melaleuca (also known as Tea Tree Oil) is renowned for its cleansing and rejuvenating effect on the skin.

 

Amino acids and lipids help nourish and hydrate skin.

 

Coconut oil helps to boost the effectiveness of surfactants and helps the skin retain more moisture.
Veráge™ Immortelle Hydrating Serum
Experience the age-defying effects of Veráge Immortelle Hydrating Serum. This powerful formula combines CPTG essential oils with a specialised plant technology to promote optimal lipid balance for more youthful-looking skin. Harnessing a natural, scientific approach to skin hydration, the lipid complex used in Veráge Immortelle Hydrating Serum goes beyond a typical moisturising serum by using lipids similar to those found in skin at its peak of optimum health and youth. Veráge Immortelle Hydrating Serum is an innovative, highly effective formula that produces results you can see and feel.
Primary Benefits
 

CPTG essential oil blend of Frankincense, Hawaiian Sandalwood, Lavender, Myrrh, Helichrysum, and Rose may support healthy-looking skin.

 

The lipid complex goes above and beyond a typical moisturiser by using lipids similar to those naturally found in youthful skin.

 

Formulated to hydrate the skin deeply.

 

Advanced formula combines the lipids of olive, jojoba, and macadamia oils to produce amazingly soft skin.
Great for all skin types, Veráge Moisturiser combines the CPTG essential oils of Geranium and Juniper Berry, the absolutes of Jasmine and Sea Buckthorn Berry, and plant extracts to promote deep hydration and skin nourishment. Using advanced plant technology, this light, non-greasy moisturiser hydrates deeply. Veráge Moisturiser promotes hydration in the skin, resulting in a smooth, even complexion.
Primary Benefits
 

Contains CPTG essential oils of Geranium and Juniper Berry along with the absolutes of Jasmine and Sea Buckthorn Berry.

 

Amur Corktree bark extract helps to deeply condition and soothe the skin.

 

Sea Buckthorn Berry and Shea Butter nourish and smooth skin.
Veráge Toner refreshes the skin by combining CPTG essential oils with plant extracts help to tighten, tone, and smooth. The second step in the Veráge Skin Care Regimen, this toner prepares skin for the rich emollients found in Veráge Hydrating Serum and Moisturiser. Incorporating witch hazel, aloe, and other beneficial skin care ingredients, Veráge Toner helps to refine and tighten the pores, and improves texture and clarity when used on a daily basis. This cool, invigorating formula can be used as a refreshing mist throughout the day for a fresh, dewy complexion any time of the day!
Primary Benefits
 

Ylang Ylang helps to promote a relaxed, positive mood.

 

Aloe has been used for centuries due to its renowned healing properties to soothe skin.

 

Prep and refresh skin with the combined effect of CPTG essential oils and plant extracts that tighten, tone and smooth.