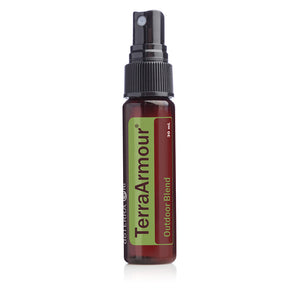 Description
TerraShield Spray contains essential oils and other plant oils known to provide outdoor protection in a natural, safe way. This newly-updated formula contains a select blend of essential oils including Ylang Ylang, Cedarwood, Catnip, Lemon Eucalyptus, Litsea, Arborvitae, Nootka, and Vanilla Bean Absolute—all of which possess specific chemical compounds known to protect against environmental annoyances. Terrashield Spray is perfect for those who want the benefits of the Terrashield Outdoor Blend in a convenient, take-on-the-go spray bottle.
Uses
Apply TerraShield to the legs, arms, and neck before going outdoors or diffuse on your patio.
Take TerraShield on camping trips or to outdoor events.
Spray TerraShield around your door, window seals, and tent.
Directions for Use
Topical use: Apply to desired areas before outdoor activity. Reapply every few hours as needed.
Cautions
Possible skin sensitivity. Keep out of reach of children. If you are pregnant, nursing, or under a doctor's care, consult your physician. Avoid contact with eyes, inner ears, and sensitive areas.