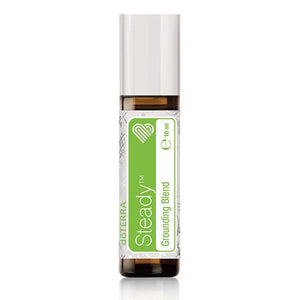 "GROUNDING BLEND"
DESCRIPTION
 Perfect for daily or as-needed use, Steady has a soft, inviting, and slightly fruity aroma. Steady draws on the unique benefits of essential oils such as Amyris, Balsam Fir, Coriander, and Magnolia to deliver a calming effect. Roll Steady onto the back of your neck or wrists and take a deep breath to balance your mood.
PRIMARY BENEFITS
Steady Grounding Blend has a soft, inviting, and slightly fruity aroma that can help soothe feelings when applied topically
This blend includes Amyris, Balsam Fir, Coriander, and Magnolia essential oils in a base of Fractionated Coconut Oil
Promotes feelings of calmness and brings a sense of balance to your mood
USES
Apply to the back of the neck when feeling overwhelmed to help calm emotions.
Roll on to wrists and hands and inhale deeply to promote tranquility.
Apply to the bottom of your child's feet to promote peace before leaving for school.
WHAT'S INSIDE?
Full Ingredients List
Coriander is a fresh, aromatic herb that has been used for centuries. A popular cooking spice, just a touch of Coriander essential oil can transform any dish!
With species scattered throughout South Asia, the Pacific, and North America, the magnolia flower is said to be a well-travelled botanical. Magnolia flowers have been used in Chinese traditional health practices to help create a sense of balance within the body. Magnolia essential oil has a fruity and floral aroma and may help to promote calm and soothing feelings. Combined with Fractionated Coconut Oil, Magnolia Touch is moisturising and soothing to the skin. Add to your daily routine to help keep skin clean and hydrated.
DIRECTIONS
Aromatic:

 
Roll on to diffusing jewellery, natural dolomite, or lava diffusing rocks.
Topical:
Apply to desired area. Intended for use with adult supervision.
CAUTIONS
Keep out of reach of children under 3. Possible skin sensitivity. If under a doctor's care, consult your physician. Keep out of eyes, inner ears, mouth, and sensitive areas.