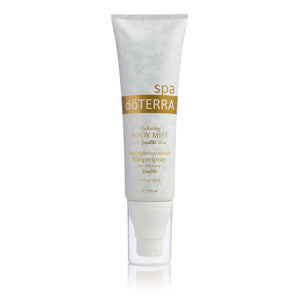 Description
Feel completely rehydrated all over your body! The benefits of our Beautiful Captivating essential oil blend combine with the nourishing properties of coconut, sunflower, avocado, and passion fruit. This hydrating mist will help improve the overall appearance of healthy-looking and radiant skin.
Primary Benefits
Provides the uplifting and energising benefits of CPTG™ Beautiful Captivating essential oil blend.
The oils of Sunflower, Avocado, and Passion Fruit help soothe, soften, and hydrate skin for an overall healthy glow.
Caprylic/Capric Triglyceride (coconut derived), conditions and maintains the skin's natural barrier.
Directions for Use
Mist over the entire body after bathing or anytime during the day for an uplifting boost.
Cautions
For external use only. Avoid contact with eyes. Not recommended before extended UV exposure.