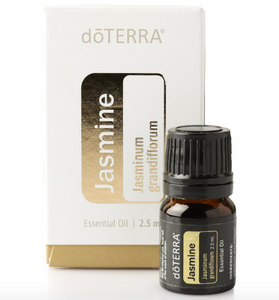 DESCRIPTION
After years of research, the fragrant, captivating aroma of jasmine blossoms has been captured with exquisite potency. This precious and truly exquisite essential oil is joy, love and absolute splendor.
Representing innovation and essential oil mastery and requiring approximately 60,000 jasmine blossoms to produce, this one 2.5mL bottle of steam-distilled Jasmine is an aromatic masterpiece.
Renowned for its skin benefits, Jasmine can help to condition the skin. Regarded as the "King of Flowers," Jasmine is prized for its highly fragrant aroma, making Jasmine ideal to use as a personal fragrance throughout the day.
PRIMARY BENEFITS
May help reduce the appearance of skin imperfections.
Combined with Fractionated Coconut Oil, use to help promote a glowing complexion.
Jasmine is renowned for its multitude of skin benefits, harnessed in this convenient Jasmine Touch roll-on bottle for easy use.
Promotes a positive outlook and helps to uplift the mood with its euphoric, pungent aroma.
USES
Use topically on skin imperfections and blemishes to help reduce their appearance.

Apply topically after a shower to help ease into the day with an uplifted and positive mood.

Use in massage for a soothing, relaxing experience after a long work day or strenuous exercise.

Apply to wrists and neck for a unique personal fragrance you can wear in the day or at night.

Incorporate into your skin care routine for a brightlooking complexion.
Precious and truly exquisite
Because of the delicate nature of its petals, Jasmine has traditionally only been available as an absolute.
Absolutes hold onto heavier compounds than essential oils and won't have quite the same chemical makeup as an essential oil from the same plant. But with some botanicals, absolutes are the only way to extract anything aromatic from a plant, making them a helpful solution. This was the case with Jasmine until recently.
After years of research and in partnership with our sourcing partners, dōTERRA has discovered a way to successfully extract the pure, natural essential oil from fragile jasmine blossoms through steam distillation. The floral aroma of Jasmine is potent and powerful and now available for you to enjoy as an essential oil.
DIRECTIONS FOR USE
Topical Use: Apply one to two drops to desired area. See additional precautions below.
CAUTIONS
Possible skin sensitivity. Keep out of reach of children. If pregnant or under a doctor's care, consult your physician. Avoid contact with eyes, inner ears, and sensitive areas.